Adding of POP of color to any outfit will enhance your look. I love pairing neutral tones with a bright bold color. Have fun and be a kid again- go a little wild and be a little bit daring! Wear those bright Crayola red shoes with your LBD for dinner! You only live once!
Kim K. is wearing a neutral toned ensemble but adds a kick of color with her bright yellow Hermes bag. Her simplistic look is quickly transformed into more edgy and stylish.
Instead of a bright and bold accessory or shoe go for a bold colored piece- like this amazing jackets!
If you don't want to spend your big$$ (or even any $$) on a bright wardrobe piece because you don't believe you wear them years down the road-- I suggest going with an edgy piece of jewelry or bold scarf instead. Don't be afraid of bright, bold, and daring accessories! I have a bunch of feather head bands, and some with gorgeous beading I purchased at Express and I always receive compliments on them. It's so easy to jazz up and plain white tee with one statement piece.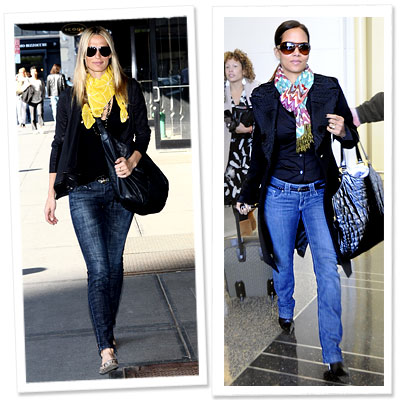 You don't need to be a millionaire to get these looks...
I love H&M's new 2011 Fall collection.
Homework- wear a pop of color this week! (It can be anything you want... even that bright shade of lipstick you bought on sale and haven't worn yet)